#3314 JMJD1B (C69G2) Rabbit mAb
| | | | | |
| --- | --- | --- | --- | --- |
| #3314S | 100 μL | 56,000 | | |
感度
分子量 (kDa)
抗体の由来
貯法
内在性
220
Rabbit IgG
-20℃
ウェスタンブロッティング (1:1000)、免疫沈降 (1:25)、免疫蛍光細胞染色 (IF-IC) (1:200)
特異性・感度
内在性レベルのJMJD1B タンパク質の3つ全てのアイソフォームを検出します。HR、JMJD1A、JMJD1C などの他のJumonji C タンパク質とは交差しません。
使用抗原
ヒトのJMJD1B タンパク質由来の配列 (合成ペプチド)
ホモロジー (相同性) 検索をご希望の場合 >>>
ホモロジー検索をご要望の際は、ご希望のサンプル種のアミノ酸配列とともにお問合せください。
※下記の社内データは、すべて3314 の推奨プロトコールで実験した結果です。
Western Blotting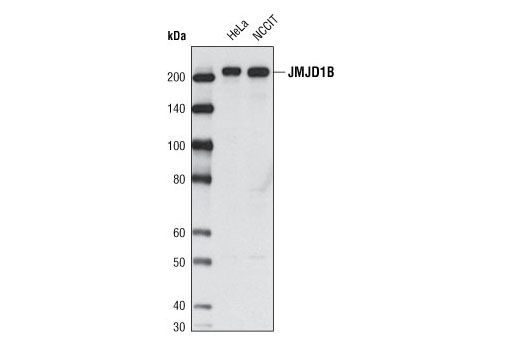 Western blot analysis of extracts from HeLa and NCCIT cell lines using JMJD1B (C69G2) Rabbit mAb.
The methylation state of lysine residues in histone proteins is a major determinant of the formation of active and inactive regions of the genome and is crucial for the proper programming of the genome during development (1,2). Jumonji C (JmjC) domain-containing proteins represent the largest class of potential histone demethylase proteins (3). The JmjC domain of several proteins has been shown to catalyze the demethylation of mono-, di-, and tri-methyl lysine residues via an oxidative reaction that requires iron and α-ketoglutarate (3). Based on homology, both humans and mice contain at least 30 such proteins, which can be divided into seven separate families (3). The JMJD1 (Jumonji domain-containing protein 1) family, also known as JHDM2 (JmjC domain-containing histone demethylation protein 2) family, contains four members: hairless (HR), JMJD1A/JHDM2A, JMJD1B/JHDM2B, and JMJD1C/JHDM2C. Hairless is expressed in the skin and brain and acts as a co-repressor of the thyroid hormone receptor (4-6). Mutations in the hairless gene cause alopecia in both mice and humans (4,5). JMJD1A is expressed in meiotic and post-meiotic male germ cells, contributes to androgen receptor-mediated gene regulation, and is required for spermatogenesis (7-9). It has also been identified as a downstream target of OCT4 and STAT3 and is critical for the regulation of self-renewal in embryonic stem cells (10,11). JMJD1B is a more widely expressed family member and is frequently deleted in myeloid leukemia (12). JMJD1C (also known as TRIP8) is a co-factor of both the androgen and thyroid receptors and has a potential link to autism (13-15). Members of the JMJD1/JHDM2 family have been shown to demethylate mono-methyl and di-methyl histone H3 (Lys9) (3,8).
Cell Signaling Technology is a trademark of Cell Signaling Technology, Inc.
U.S. Patent No. 7,429,487, foreign equivalents, and child patents deriving therefrom.