#3121 Phospho-Met (Tyr1349) Antibody
| | | | | |
| --- | --- | --- | --- | --- |
| #3121S | 100 μL | 66,000 | | |
感度
分子量 (kDa)
抗体の由来
貯法
内在性
145
Rabbit
-20℃
| 種交差性 (社内試験済) | |
| --- | --- |
| ヒト、マウス、ラット | - |
ウェスタンブロッティング (1:1000)、免疫沈降 (1:50)
特異性・感度
内在性レベルのTyr1349 がリン酸化されたMet タンパク質を検出します。また、活性化したEGF、PDGF、Insulin receptor、FGF receptor とも交差反応する可能性があります。
使用抗原
ヒトのMet タンパク質のTyr1349 周辺領域 (合成リン酸化ペプチド)
ホモロジー (相同性) 検索をご希望の場合 >>>
ホモロジー検索をご要望の際は、ご希望のサンプル種のアミノ酸配列とともにお問合せください。
※下記の社内データは、すべて3121 の推奨プロトコールで実験した結果です。
Western Blotting
Western blot analysis of extracts from mIMCD-3 cells, untreated or HGF-stimulated (40 ng/ml for 2 minutes), using Phospho-Met (Tyr1349) Antibody (upper) or Met antibody (lower).
Western Blotting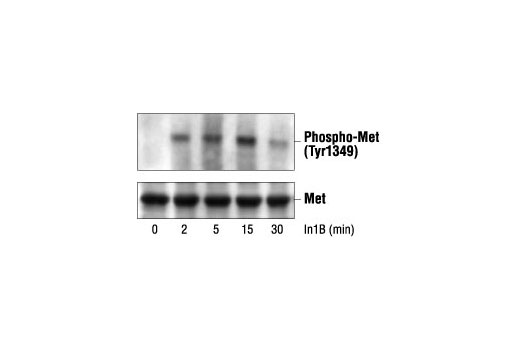 Western blot analysis of extracts from Vero cells, treated with In1B (3 nM) for the indicated times, using Phospho-Met (Tyr1349) Antibody (upper) or Met antibody (lower). In1B is a c-Met activator (Shen, Y. et al. 2000, Cell 103, 501-510). (In1B provided by Dr. K. Ireton, University of Toronto, Canada.)
Met, a high affinity tyrosine kinase receptor for hepatocyte growth factor (HGF, also known as scatter factor) is a disulfide-linked heterodimer made of 45 kDa α- and 145 kDa β-subunits (1,2). The α-subunit and the amino-terminal region of the β-subunit form the extracellular domain. The remainder of the β-chain spans the plasma membrane and contains a cytoplasmic region with tyrosine kinase activity. Interaction of Met with HGF results in autophosphorylation at multiple tyrosines, which recruit several downstream signaling components, including Gab1, c-Cbl, and PI3 kinase (3). These fundamental events are important for all of the biological functions involving Met kinase activity. The addition of a phosphate at cytoplasmic Tyr1003 is essential for Met protein ubiquitination and degradation (4). Phosphorylation at Tyr1234/1235 in the Met kinase domain is critical for kinase activation. Phosphorylation at Tyr1349 in the Met cytoplasmic domain provides a direct binding site for Gab1 (5). Research studies have shown that altered Met levels and/or tyrosine kinase activities are found in several types of tumors, including renal, colon, and breast. Thus, investigators have concluded that Met is an attractive potential cancer therapeutic and diagnostic target (6,7).
Cell Signaling Technology is a trademark of Cell Signaling Technology, Inc.