#3048 Phospho-MYPT1 (Ser668) Antibody
| | | | | |
| --- | --- | --- | --- | --- |
| #3048S | 100 μL | 66,000 | | |
MYPT1 製品一覧 | #3048 が入っているAntibody Sampler キット一覧
感度
分子量 (kDa)
抗体の由来
貯法
内在性
140
Rabbit
-20℃
| 種交差性 (社内試験済) | |
| --- | --- |
| ヒト | マウス、ラット、サル |
特異性・感度
内在性レベルのSer668 がリン酸化されたMYPT1 タンパク質を検出します。
使用抗原
ヒトのMYPT1 タンパク質のSer668 周辺領域 (合成ペプチド)
ホモロジー (相同性) 検索をご希望の場合 >>>
ホモロジー検索をご要望の際は、ご希望のサンプル種のアミノ酸配列とともにお問合せください。
※下記の社内データは、すべて3048 の推奨プロトコールで実験した結果です。
Western Blotting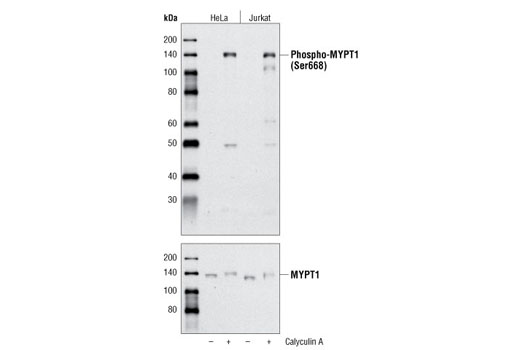 Western blot analysis of extracts from HeLa and Jurkat cells, untreated or treated with Calyculin A #9902, using Phospho-MYPT1 (Ser668) Antibody (upper) or total MYPT1 Antibody #2634 (lower).
Western Blotting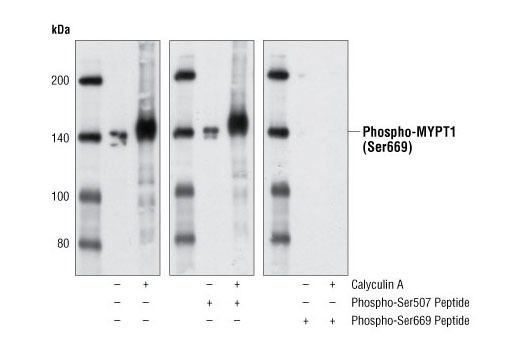 Western blot analysis of extracts from HeLa cells, untreated or treated with Calyculin A #9902, using Phospho-MYPT1 (Ser668) Antibody. The phospho-specificity of the antibody was verified by peptide blocking using no peptide (left), phospho-Ser507 peptide (middle) or phospho-Ser668 peptide (right).
Protein phosphatase 1 (PP1) is a ubiquitous eukaryotic protein serine/threonine phosphatase involved in the regulation of various cell functions. Substrate specificity is determined by the binding of a regulatory subunit to the PP1 catalytic subunit (PP1c). It is estimated that over fifty different regulatory subunits exist (1).
The myosin phosphatase holoenzyme is composed of three subunits: PP1c, a targeting/regulatory subunit (MYPT/myosin-binding subunit of myosin phosphatase), and a 20 kDa subunit of unknown function (M20). MYPT binding to PP1cδ alters the conformation of the catalytic cleft and increases enzyme activity and specificity (2). Two MYPT isoforms that are 61% identical have been described. MYPT1 is widely expressed, while MYPT2 expression appears to be exclusive to heart and brain (3). Related family members include MBS85, MYPT3, and TIMAP (4).
Myosin phosphatase regulates the interaction of actin and myosin in response to signaling through the small GTPase Rho. Rho activity inhibits myosin phosphatase via Rho-associated kinase (ROCK). Phosphorylation of MYPT1 at Thr696 and Thr853 results in phosphatase inhibition and cytoskeletal reorganization (5,6).
Phospho-MYPT1 (Ser668) Antibody is directed at a site that was identified at Cell Signaling Technology (CST) using PhosphoScan®, CST's LC-MS/MS platform for modification site discovery. Phosphorylation at Ser668 was discovered using an Akt substrate antibody. Please visit PhosphoSitePlus®, CST's modification site knowledgebase, at www.phosphosite.org for more information.
Cell Signaling Technology is a trademark of Cell Signaling Technology, Inc.