#2979 Phospho-SRC-3 (Thr24) Antibody
| | | | | |
| --- | --- | --- | --- | --- |
| #2979S | 100 μL | 66,000 | | |
感度
分子量 (kDa)
抗体の由来
貯法
内在性
160
Rabbit
-20℃
ウェスタンブロッティング (1:1000)、免疫蛍光細胞染色 (IF-IC) (1:200)
特異性・感度
内在性レベルのThr24 がリン酸化されたSRC-3タンパク質を検出します。他のファミリータンパク質とは交差しません。
使用抗原
ヒトのSRC-3 タンパク質のThr24 周辺の配列 (合成ペプチド)
ホモロジー (相同性) 検索をご希望の場合 >>>
ホモロジー検索をご要望の際は、ご希望のサンプル種のアミノ酸配列とともにお問合せください。
※下記の社内データは、すべて2979 の推奨プロトコールで実験した結果です。
Western Blotting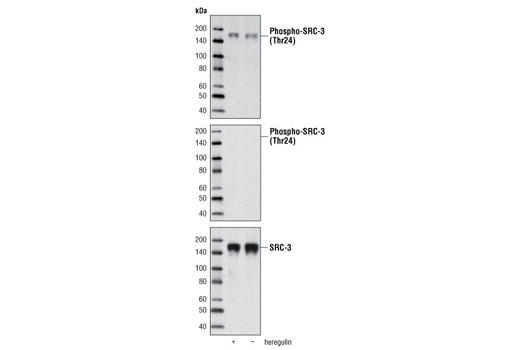 Western blot analysis of cell extracts from MCF-7 cells, untreated or stimulated with heregulin, using Phospho-SRC-3 (Thr24) Antibody (upper and middle) or SRC-3 (5E11) Rabbit mAb #2126 (lower). The middle blot was treated with calf intestinal phosphatase (CIP) before antibody probing.
There are three members of the steroid receptor co-activator (SRC) family of proteins: SRC-1 (NCoA-1), SRC-2 (TIF2/GRIP1/NCoA-2), and SRC-3 (ACTR/pCIP/RAC3/TRAM-1/AIB1). All SRC family members share significant structural homology and function to stimulate transcription mediated by nuclear hormone receptors and other transcriptional activators such as Stat3, NF-κB, E2F1, and p53 (1-4). Two SRC proteins, SRC-1 and SRC-3, function as histone acetyltransferases (5,6). In addition, all three family members can recruit other histone acetyltransferases (CBP/p300, PCAF) and histone methyltransferases (PRMT1, CARM1) to target promoters and cooperate to enhance expression of many genes (5-8). The SRC proteins play important roles in multiple physiological processes including cell proliferation, cell survival, somatic cell growth, mammary gland development, female reproductive function, and vasoprotection (9). SRC-1 and SRC-3 are conduits for kinase-mediated growth factor signaling to the estrogen receptor and other transcriptional activators. Seven SRC-1 phosphorylation sites and six SRC-3 phosphorylation sites have been identified, which are induced by steroids, cytokines, and growth factors and involve multiple kinase signaling pathways (9-11). Research has shown that all three SRC family members are associated with increased activity of nuclear receptors in breast, prostate, and ovarian carcinomas. According to the literature, SRC-3 is frequently amplified or overexpressed in a number of cancers (12), and SRC-1/PAX3 and SRC-2/MYST3 translocations are found associated with rhabdomyosarcoma and acute myeloid leukemia, respectively (13,14).
Phosphorylation of Thr24 of SRC-3 proteins can be induced by stimulation with EGF. Phosphorylated SRC-3 translocates from the cytoplasm to the nucleus where it interacts with other transcription factors and steroid hormone receptors and regulates gene expression (15).
Cell Signaling Technology is a trademark of Cell Signaling Technology, Inc.