#2900 Phospho-YB1 (Ser102) (C34A2) Rabbit mAb
| | | | | |
| --- | --- | --- | --- | --- |
| #2900S | 100 μL | 67,000 | | |
感度
分子量 (kDa)
抗体の由来
貯法
内在性
49
Rabbit IgG
-20℃
| 種交差性 (社内試験済) | |
| --- | --- |
| ヒト、マウス、サル | ラット、ウシ |
特異性・感度
内在性レベルのSer102 がリン酸化されたYB1 タンパク質を検出します。
使用抗原
ヒトのYB1 タンパク質のSer102 周辺領域 (合成リン酸化ペプチド)
ホモロジー (相同性) 検索をご希望の場合 >>>
ホモロジー検索をご要望の際は、ご希望のサンプル種のアミノ酸配列とともにお問合せください。
※下記の社内データは、すべて2900 の推奨プロトコールで実験した結果です。
Western Blotting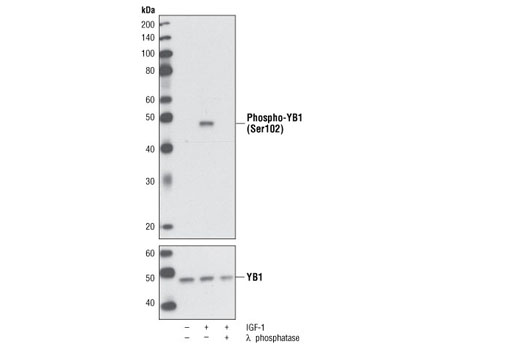 Western blot analysis of extracts from MCF-7 cells, serum-starved overnight and then either left untreated or treated with IGF-1 (50 ng/ml) for one hour, using Phospho-YB1 (Ser102) (C34A2) Rabbit mAb (upper) or YB1 Antibody #2749 (lower). Further treatment of the IGF-1-treated cell extracts with λ phosphatase depleted the phospho-specific YB1 signal (upper), but not total YB1 (lower).
The Y-box binding protein 1 (YB1) belongs to a family of evolutionarily conserved, multifunctional Y-box proteins that bind single-stranded DNA and RNA and function as regulators of transcription, RNA metabolism, and protein synthesis (1). YB1 binds to Y-box sequences (TAACC) found in multiple gene promoters and can positively or negatively regulate transcription. YB1 activates genes associated with proliferation and cancer, such as cyclin A, cyclin B1, matrix metalloproteinase-2 (MMP-2), and the multi-drug resistance 1 (MDR1) gene (2-4). YB1 represses genes associated with cell death, including the Fas cell death-associated receptor and the p53 tumor suppressor gene (5-7). It also interacts with the RNA-splicing factor SRp30c and stabilizes interleukin-2 (IL-2) mRNA upon induction of T lymphocytes by IL-2 (8,9). The majority of YB1 protein localizes to the cytoplasm, with a minor pool found in the nucleus; however, nuclear localization appears to be critical for its role in promoting proliferation. Nuclear translocation is cell cycle regulated, with YB1 protein accumulating in the nucleus during G1/S phase (2). In addition, nuclear translocation is induced in response to extracellular stimuli such as hyperthermia and UV irradiation, or treatment of cells with thrombin, interferons, or insulin-like growth factor (IGF-I) (2,10). Treatment of the MCF7 breast cancer cell line with IGF-I results in Akt-mediated phosphorylation of YB1 at Ser102, which is required for nuclear translocation of YB1 and its ability to promote anchorage-independent growth (10). Research studies have shown that YB1 is overexpressed in many malignant tissues, including breast cancer, non-small cell lung carcinoma, ovarian adenocarcinomas, human osteosarcomas, colorectal carcinomas, and malignant melanomas. Investigators have shown that nuclear YB1 expression correlates with high levels of proliferation, drug resistance, and poor tumor prognosis (2,7,10).
Cell Signaling Technology is a trademark of Cell Signaling Technology, Inc.
U.S. Patent No. 7,429,487, foreign equivalents, and child patents deriving therefrom.