#2710 Phospho-Syk (Tyr525/526) (C87C1) Rabbit mAb
CSTコード
包装

希望納入価格 (円)

ご登録代理店情報

カスタマー情報にご登録いただいた代理店を表示しています。

ご登録代理店の変更は

こちら

。

#2710S
100 μL
67,000
#2710T
20 μL
39,000


Custom Antibody Sampler Kitの構成品を選択できます。
5本以上を選択し、ページ右上のCartから製品確定書を発行してください。
尚、構成品の単品販売は致しておりません。
SYK 製品一覧 | #2710 が入っているAntibody Sampler キット一覧
感度
分子量 (kDa)
抗体の由来
貯法
内在性
72
Rabbit IgG
-20℃
ウェスタンブロッティング (1:1000)、免疫沈降 (1:50)、免疫蛍光細胞染色 (IF-IC) (1:200)、フローサイトメトリー (1:200-1:800)
特異性・感度
内在性レベルのTyr525/526 両方もしくは片方がリン酸化されたヒトのSyk タンパク質やTyr519/520 がリン酸化されたマウスのSyk タンパク質を検出します。チロシンがリン酸化されたProtein Tyrosine Kinaseとは交差しません。
使用抗原
ヒトのSyk タンパク質のTyr525/526 周辺領域 (合成リン酸化ペプチド)
ホモロジー (相同性) 検索をご希望の場合 >>>
ホモロジー検索をご要望の際は、ご希望のサンプル種のアミノ酸配列とともにお問合せください。
※下記の社内データは、すべて2710 の推奨プロトコールで実験した結果です。
Western Blotting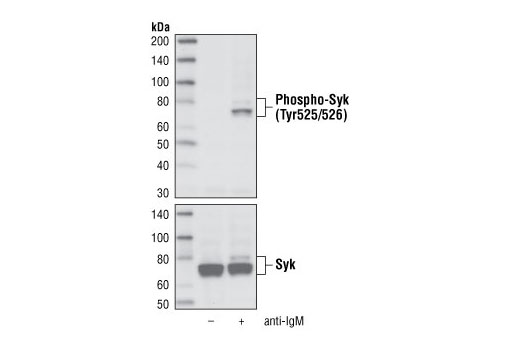 Western blot analysis of extracts from Ramos cells, untreated or treated with anti-IgM, using Phospho-Syk (Tyr525/526) (C87C1) Rabbit mAb (upper) or Syk Antibody #2712 (lower).
IF-IC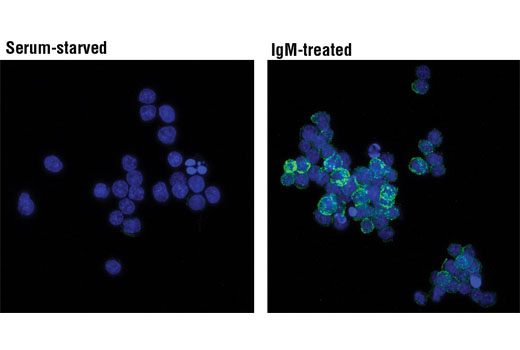 Confocal immunofluorescent analysis of Ramos cells, serum-starved (overnight; left) or IgM-treated (12 ug/ml, 2 minutes; right), using Phospho-Syk (Tyr525/526) (C87C1) Rabbit mAb (green). Blue pseudocolor = DRAQ5® #4084 (fluorescent DNA dye).
Flow Cytometry
Flow cytometric analysis of Ramos cells, untreated (blue) or treated with anti-IgM (green), using Phospho-Syk(Tyr525/526) (C87C1) Rabbit mAb. Anti-rabbit IgG (H+L), F(ab')2 Fragment (PE Conjugate) #8885 was used as a secondary antibody.
Syk is a protein tyrosine kinase that plays an important role in intracellular signal transduction in hematopoietic cells (1-3). Syk interacts with immunoreceptor tyrosine-based activation motifs (ITAMs) located in the cytoplasmic domains of immune receptors (4). It couples the activated immunoreceptors to downstream signaling events that mediate diverse cellular responses, including proliferation, differentiation, and phagocytosis (4). There is also evidence of a role for Syk in nonimmune cells and investigators have indicated that Syk is a potential tumor suppressor in human breast carcinomas (5). Tyr323 is a negative regulatory phosphorylation site within the SH2-kinase linker region in Syk. Phosphorylation at Tyr323 provides a direct binding site for the TKB domain of Cbl (6,7). Tyr352 of Syk is involved in the association of PLCγ1 (8). Tyr525 and Tyr526 are located in the activation loop of the Syk kinase domain; phosphorylation at Tyr525/526 of human Syk (equivalent to Tyr519/520 of mouse Syk) is essential for Syk function (9).
DRAQ5 is a registered trademark of Biostatus Limited.
Cell Signaling Technology is a trademark of Cell Signaling Technology, Inc.
U.S. Patent No. 7,429,487, foreign equivalents, and child patents deriving therefrom.