#2574 Acetyl-Histone H2B (Lys5) Antibody
| | | | | |
| --- | --- | --- | --- | --- |
| #2574S | 100 μL | 66,000 | | |
感度
分子量 (kDa)
抗体の由来
貯法
内在性
14
Rabbit
-20℃
| 種交差性 (社内試験済) | |
| --- | --- |
| ヒト、マウス、ラット、サル | - |
ウェスタンブロッティング (1:1000)、免疫沈降 (1:50)、免疫組織染色 (パラフィン) (1:100)
下記ステップについては、データシートの右側もあわせてご参照ください。
IHC-P: 抗体希釈液 / 抗原賦活化
特異性・感度
内在性レベルのLys5 がアセチル化されたHistone H2B タンパク質を検出します。他のアセチル化ヒストンとは交差しません。
使用抗原
ヒトのHistone H2B タンパク質のLys5 周辺領域 (合成アセチル化ペプチド)
ホモロジー (相同性) 検索をご希望の場合 >>>
ホモロジー検索をご要望の際は、ご希望のサンプル種のアミノ酸配列とともにお問合せください。
※下記の社内データは、すべて2574 の推奨プロトコールで実験した結果です。
Western Blotting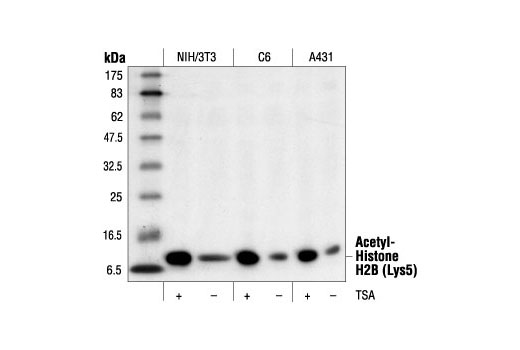 Western blot analysis of extracts from various cell lines, untreated or TSA-treated (400 nM for 12 hours), using Acetyl-Histone H2B (Lys5) Antibody.
The nucleosome, made up of four core histone proteins (H2A, H2B, H3, and H4), is the primary building block of chromatin. Originally thought to function as a static scaffold for DNA packaging, histones have now been shown to be dynamic proteins, undergoing multiple types of post-translational modifications, including acetylation, phosphorylation, methylation, and ubiquitination (1,2). The p300/CBP histone acetyltransferases acetylate multiple lysine residues in the amino terminal tail of histone H2B (Lys5, 12, 15, and 20) at gene promoters during transcriptional activation (1-3). Hyper-acetylation of the histone tails neutralizes the positive charge of these domains and is believed to weaken histone-DNA and nucleosome-nucleosome interactions, thereby destabilizing chromatin structure and increasing the access of DNA to various DNA-binding proteins (4,5). In addition, acetylation of specific lysine residues creates docking sites that facilitate recruitment of many transcription and chromatin regulatory proteins that contain a bromodomain, which binds to acetylated lysine residues (6). Histone H2B is mono-ubiquitinated at Lys120 during transcriptional activation by the RAD6 E2 protein in conjunction with the BRE1A/BRE1B E3 ligase (also known as RNF20/RNF40) (7). Mono-ubiquitinated histone H2B Lys120 is associated with the transcribed region of active genes and stimulates transcriptional elongation by facilitating FACT-dependent chromatin remodeling (7-9). In addition, it is essential for subsequent methylation of histone H3 Lys4 and Lys79, two additional histone modifications that regulate transcriptional initiation and elongation (10). In response to metabolic stress, AMPK is recruited to responsive genes and phosphorylates histone H2B at Lys36, both at promoters and in transcribed regions of genes, and may regulate transcriptional elongation (11). In response to multiple apoptotic stimuli, histone H2B is phosphorylated at Ser14 by the Mst1 kinase (12). Upon induction of apoptosis, Mst1 is cleaved and activated by caspase-3, leading to global phosphorylation of histone H2B during chromatin condensation. Interestingly, histone H2B is rapidly phosphorylated at irradiation-induced DNA damage foci in mouse embryonic fibroblasts (13). In this case, phosphorylation at Ser14 is rapid, depends on prior phosphorylation of H2AX Ser139, and occurs in the absence of apoptosis, suggesting that Ser14 phosphorylation may have distinct roles in DNA-damage repair and apoptosis.
Cell Signaling Technology is a trademark of Cell Signaling Technology, Inc.