#2416 Phospho-β-Arrestin 1 (Ser412) (6-24) Mouse mAb
| | | | | |
| --- | --- | --- | --- | --- |
| #2416S | 100 μL | 67,000 | | |
感度
分子量 (kDa)
抗体の由来
貯法
内在性
50
Mouse IgG1
-20℃
| 種交差性 (社内試験済) | |
| --- | --- |
| ヒト、マウス、ラット、サル | - |
ウェスタンブロッティング (1:1000)、免疫沈降 (1:50)
特異性・感度
内在性レベルのSer412 がリン酸化されたβ-Arrestin 1 タンパク質を検出します。β-Arrestin 2 タンパク質とは交差しません。
使用抗原
ヒトのβ-Arrestin 1 タンパク質のSer412 周辺領域 (合成ペプチド)
ホモロジー (相同性) 検索をご希望の場合 >>>
ホモロジー検索をご要望の際は、ご希望のサンプル種のアミノ酸配列とともにお問合せください。
※下記の社内データは、すべて2416 の推奨プロトコールで実験した結果です。
Western Blotting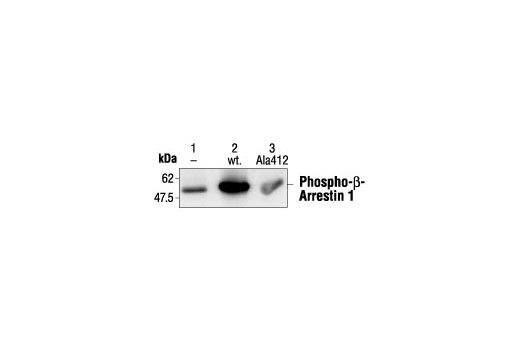 Western blot analysis of extracts from HEK293 cells alone (-), expressing β-arrestin 1 (wt) or β-arrestin (Ser412Ala) mutant (Ala412), using Phospho-β-Arrestin 1 (Ser412) (6-24) Mouse mAb. Lanes 1 and 3 show endogenous levels of phosphorylated β-arrestin 1.
IP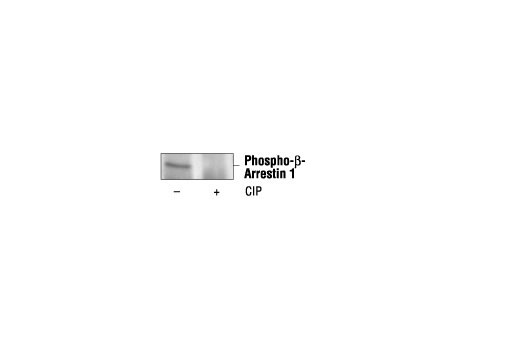 Immunoprecipitation of β-arrestin 1 from HEK293 cells using a polyclonal antibody to phospho-β-arrestin 1 (Ser412), followed by alkaline phosphaphatase (CIP) treatment. β-arrestin 1 was detected by Phospho-beta-Arrestin 1 (Ser412) (6-24) Mouse mAb. CIP treatment abolished the β-arrestin 1 signal, indicating that the monoclonal antibody is phospho-specific.
Arrestin proteins function as negative regulators of G protein-coupled receptor (GPCR) signaling. Cognate ligand binding stimulates GPCR phosphorylation, which is followed by binding of arrestin to the phosphorylated GPCR and the eventual internalization of the receptor and desensitization of GPCR signaling (1). Four distinct mammalian arrestin proteins are known. Arrestin 1 (also known as S-arrestin) and arrestin 4 (X-arrestin) are localized to retinal rods and cones, respectively. Arrestin 2 (also known as β-arrestin 1) and arrestin 3 (β-arrestin 2) are ubiquitously expressed and bind to most GPCRs (2). β-arrestins function as adaptor and scaffold proteins and play important roles in other processes, such as recruiting c-Src family proteins to GPCRs in Erk activation pathways (3,4). β-arrestins are also involved in some receptor tyrosine kinase signaling pathways (5-8). Additional evidence suggests that β-arrestins translocate to the nucleus and help regulate transcription by binding transcriptional cofactors (9,10).
Erk1/2 constitutively phosphorylates β-arrestin 1 at carboxy-terminal Ser412, which promotes cytosolic localization of the scaffold protein (11). Agonist stimulation of β2-adrenergic receptors results in recruitment of β-arrestin 1 to the plasma membrane and rapid dephosphorylation of arrestin. Dephosphorylation is an essential step of β-arrestin 1-mediated receptor endocytosis, but it is not required for receptor desensitization (12).
Cell Signaling Technology is a trademark of Cell Signaling Technology, Inc.