#2303 Phospho-c-Jun (Thr91) Antibody
| | | | | |
| --- | --- | --- | --- | --- |
| #2303S | 100 μL | 66,000 | | |
感度
分子量 (kDa)
抗体の由来
貯法
内在性
48
Rabbit
-20℃
| 種交差性 (社内試験済) | |
| --- | --- |
| ヒト、マウス、ラット | - |
特異性・感度
内在性レベルのThr91 がリン酸化されたc-Jun タンパク質を検出します。
使用抗原
ヒトのc-Jun タンパク質のThr91 周辺領域 (合成リン酸化ペプチド)
ホモロジー (相同性) 検索をご希望の場合 >>>
ホモロジー検索をご要望の際は、ご希望のサンプル種のアミノ酸配列とともにお問合せください。
※下記の社内データは、すべて2303 の推奨プロトコールで実験した結果です。
Western Blotting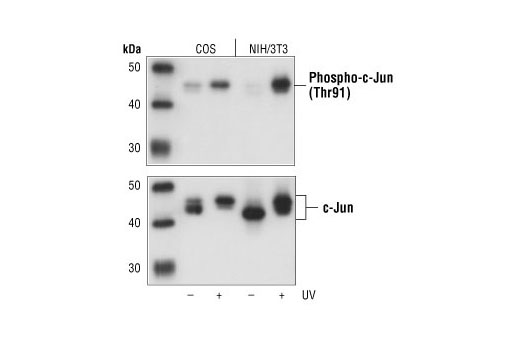 Western blot analysis of extracts from untreated or UV-treated COS and NIH/3T3 cells, using Phospho-c-Jun (Thr91) Antibody (upper) or c-Jun (60A8) Rabbit mAb #9165 (lower).
c-Jun is a member of the Jun family containing c-Jun, JunB, and JunD, and is a component of the transcription factor activator protein-1 (AP-1). AP-1 is composed of dimers of Fos, Jun, and ATF family members and binds to and activates transcription at TRE/AP-1 elements (reviewed in 1). Extracellular signals including growth factors, chemokines, and stress activate AP-1-dependent transcription. The transcriptional activity of c-Jun is regulated by phosphorylation at Ser63 and Ser73 through SAPK/JNK (reviewed in 2). Knock-out studies in mice have shown that c-Jun is essential for embryogenesis (3), and subsequent studies have demonstrated roles for c-Jun in various tissues and developmental processes including axon regeneration (4), liver regeneration (5), and T cell development (6). AP-1 regulated genes exert diverse biological functions including cell proliferation, differentiation, and apoptosis, as well as transformation, invasion and metastasis, depending on cell type and context (7-9). Other target genes regulate survival, as well as hypoxia and angiogenesis (8,10). Research studies have implicated c-Jun as a promising therapeutic target for cancer, vascular remodeling, acute inflammation, and rheumatoid arthritis (11,12).
The multisite phosphorylation of the transcription factor c-Jun has been reinvestigated recently (14). The phosphorylation of Thr91 and Thr93 induces a change in the conformation of c-Jun that enhances accessibility of the carboxy-terminal sites to a protein phosphatase(s) (15). The identity of the protein kinase that phosphorylates Thr91 and Thr93 in vivo is unknown.
Cell Signaling Technology is a trademark of Cell Signaling Technology, Inc.