#2222 Anisomycin
| | | | | |
| --- | --- | --- | --- | --- |
| #2222S | 10 mg | 25,000 | | |
概要
翻訳段階においてタンパク質合成を阻害します。
Western Blotting
Western blot analysis of extracts from 293T cells, treated with Anisomycin (25 μg/ml) for the indicated times, with or without pretreatment with JNK inhibitor SP600125 (50 μM, 40 min; +), using Phospho-JunB (Thr102/Thr104) (D3C6) Rabbit mAb #8053 (upper) or JunB (C37F9) Rabbit mAb #3753 (lower).
Western Blotting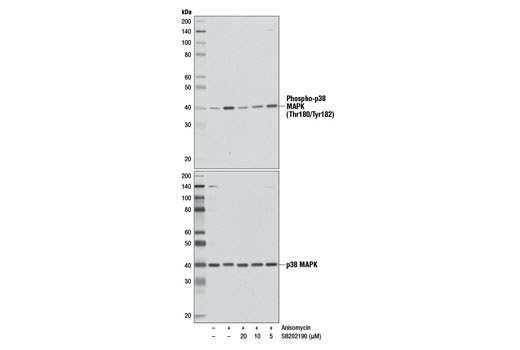 Western blot analysis of extracts from Jurkat cells, serum-starved overnight, pretreated with the indicated concentrations of SB202190 for 1 hr, and subsequently treated with Anisomycin (25 μg/ml, 30 min; +), using Phospho-p38 MAPK (Thr180/Tyr182) (D3F9) XP® Rabbit mAb #4511 (upper) or p38 MAPK Antibody #9212 (lower).
Anisomycin, an antibiotic produced by Streptomyces griseolus and S. roseochromogenes, was originally described to inhibit protein-protein synthesis at the translational level (1). More recently, it is has been well characterized to strongly activate the stress kinases SAPK/JNK and p38 MAPK, as well as p70/85 S6 kinase in mammalian cells, which results in the rapid induction of immediate-early (IE) genes, such as c-fos, fosB, c-jun, JunB, and JunD (1). Investigators have demonstrated that anisomycin acts as a potent signaling agonist, synergizing with growth factors and phorbol esters to superinduce these IE genes (1,2). Research studies have demonstrated that anisomycin induces apoptosis in many cancer cell lines (3-5).
Cell Signaling Technology is a trademark of Cell Signaling Technology, Inc.