#2129 Phospho-Rev-erbα (Ser55/59) Antibody
| | | | | |
| --- | --- | --- | --- | --- |
| #2129S | 100 μL | 67,000 | | |
感度
分子量 (kDa)
抗体の由来
貯法
トランスフェクト
80
Rabbit
-20℃
| 種交差性 (社内試験済) | |
| --- | --- |
| ヒト | マウス、ラット、ウシ |
特異性・感度
トランスフェクトレベルのSer55/59がリン酸化されたRev-erbαタンパク質を検出します。Rev-erbβを含む他の核レセプタータンパク質には交差しません。
使用抗原
ヒトRev-erbαタンパク質のSer55、Ser59周辺の領域 (合成リン酸化ペプチド)
ホモロジー (相同性) 検索をご希望の場合 >>>
ホモロジー検索をご要望の際は、ご希望のサンプル種のアミノ酸配列とともにお問合せください。
※下記の社内データは、すべて2129 の推奨プロトコールで実験した結果です。
Western Blotting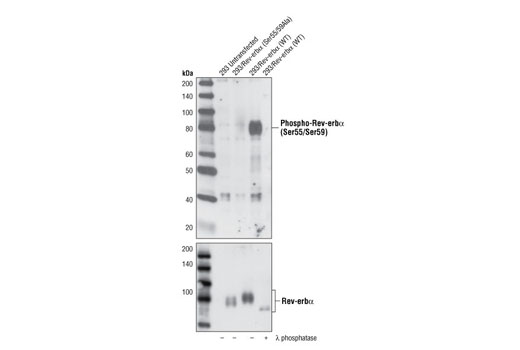 Western blot analysis of extracts from 293 cells, either untransfected or transfected with DYKDDDDK-tagged Rev-erbα expression constructs, using Phospho-Rev-erbα (Ser55/Ser59) Antibody (upper) or DYKDDDDK Tag Antibody (Binds to same epitope as Sigma's Anti-FLAG® M2 Antibody) #2368 (lower). The phospho-specificity of the antibody was verified by transfecting cells with a mutant DYKDDDDK-Rev-erbα (Ser55/59Ala) expression construct and by incubating 293/Rev-erbα (WT) extracts with (+) or without (-) λ phosphatase.
Reverse orientation c-erbA gene α (Rev-erbα, EAR-1, or NR1D1) is a widely expressed member of the orphan nuclear receptor family of proteins (1). Rev-erbα is highly expressed in adipose tissue, skeletal muscle, brain and liver, and regulates cellular proliferation and differentiation. Expression increases during differentiation in adipocytes and ectopic expression of Rev-erbα potentiates the adipocyte differentiation of 3T3-L1 cells (2). In addition, expression oscillates with circadian rhythm in liver cells and Rev-erbα regulates expression of BMAL1, ApoA-I and ApoC-III, all key regulators of circadian rhythm (3-7). Phosphorylation of Rev-erbα Ser55 and Ser59 by GSK-3β appears to stabilize Rev-erbα protein levels and is important for synchronizing and maintaining the circadian clock (8). Rev-erbα also regulates inflammation by targeting the NF-κB responsive genes IL-6 and COX-2 (9). Rev-erbα lacks the activation function 2 domain required for ligand-dependent activation of transcription by other members of the nuclear receptor family; thus it behaves as a constitutive repressor protein, recruiting the nuclear receptor co-repressor (N-CoR)/HDAC3 complex to target genes to repress transcription (10).
Anti-FLAG is a registered trademark of Sigma-Aldrich Biotechnology.
Cell Signaling Technology is a trademark of Cell Signaling Technology, Inc.