#2058 PKCδ Antibody
| | | | | |
| --- | --- | --- | --- | --- |
| #2058S | 100 μL | 58,000 | | |
感度
分子量 (kDa)
抗体の由来
貯法
内在性
78
Rabbit
-20℃
| 種交差性 (社内試験済) | |
| --- | --- |
| ヒト、マウス、ラット、サル | - |
ウェスタンブロッティング (1:1000)、免疫沈降 (1:25)
特異性・感度
内在性レベルのPKCδタンパク質を検出します。内在性レベルの他のPKC タンパク質のアイソフォームとは交差しません。
使用抗原
ヒトのPKCδタンパク質 (合成ペプチド)
ホモロジー (相同性) 検索をご希望の場合 >>>
ホモロジー検索をご要望の際は、ご希望のサンプル種のアミノ酸配列とともにお問合せください。
※下記の社内データは、すべて2058 の推奨プロトコールで実験した結果です。
Western Blotting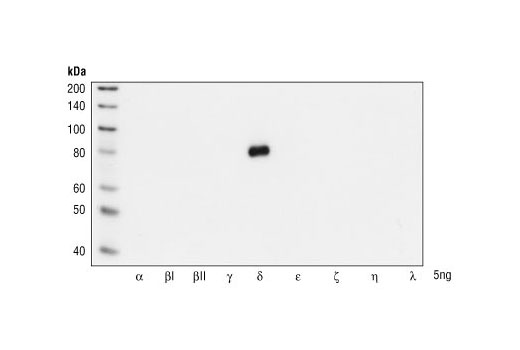 Western blot analysis of Baculovirus expressed PKC isoforms, demonstrating the isoform-specificity of PKCδ Antibody.
Activation of protein kinase C (PKC) is one of the earliest events in a cascade that controls a variety of cellular responses, including secretion, gene expression, proliferation, and muscle contraction (1,2). PKC isoforms belong to three groups based on calcium dependency and activators. Classical PKCs are calcium-dependent via their C2 domains and are activated by phosphatidylserine (PS), diacylglycerol (DAG), and phorbol esters (TPA, PMA) through their cysteine-rich C1 domains. Both novel and atypical PKCs are calcium-independent, but only novel PKCs are activated by PS, DAG, and phorbol esters (3-5). Members of these three PKC groups contain a pseudo-substrate or autoinhibitory domain that binds to substrate-binding sites in the catalytic domain to prevent activation in the absence of cofactors or activators. Control of PKC activity is regulated through three distinct phosphorylation events. Phosphorylation occurs in vivo at Thr500 in the activation loop, at Thr641 through autophosphorylation, and at the carboxy-terminal hydrophobic site Ser660 (2). Atypical PKC isoforms lack hydrophobic region phosphorylation, which correlates with the presence of glutamic acid rather than the serine or threonine residues found in more typical PKC isoforms. The enzyme PDK1 or a close relative is responsible for PKC activation. A recent addition to the PKC superfamily is PKCμ (PKD), which is regulated by DAG and TPA through its C1 domain. PKD is distinguished by the presence of a PH domain and by its unique substrate recognition and Golgi localization (6). PKC-related kinases (PRK) lack the C1 domain and do not respond to DAG or phorbol esters. Phosphatidylinositol lipids activate PRKs, and small Rho-family GTPases bind to the homology region 1 (HR1) to regulate PRK kinase activity (7).
Phosphorylatioin of tyrosine residues in PKCdelta are suggested to play a role in determining its functional properties. Phosphorylated tyrosine residues have been identified in the catalytic domain, regulatory domain, and the hinge of PKCdelta (8). While no clear designation of regulatory specificity has been deciphered based on phosphorylated tyrosine patterns, these various phosphorylations have been shown to decrease PKCdelta protein level, increase kinase activity or increase selectivity of substrate specificity (8-10).
Cell Signaling Technology is a trademark of Cell Signaling Technology, Inc.