#17507 ASC/TMS1 (D2W8U) Rabbit mAb (Mouse Specific) (Alexa Fluor® 488 Conjugate)
| | | | | |
| --- | --- | --- | --- | --- |
| #17507S | 100 μL | 63,000 | | |
感度
抗体の由来
貯法
内在性
Rabbit IgG
4℃
免疫蛍光細胞染色 (IF-IC) (1:50)、フローサイトメトリー (1:50)
特異性・感度
内在性レベルのASC タンパク質を検出します。
使用抗原
マウスのASC タンパク質の組換えタンパク質
ホモロジー (相同性) 検索をご希望の場合 >>>
ホモロジー検索をご要望の際は、ご希望のサンプル種のアミノ酸配列とともにお問合せください。
※下記の社内データは、すべて17507 の推奨プロトコールで実験した結果です。
IF-IC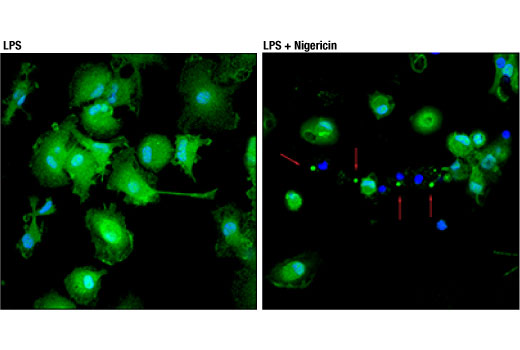 Confocal immunofluorescent analysis of mouse primary bone marrow-derived macrophages (BMDMs) differentiated with mM-CSF (20 ng/mL) for 8 days, then, either treated with LPS (50 ng/mL, overnight, left), or LPS (50 ng/mL, overnight) followed by Nigericin (10 uM, 2 hours, right), using ASC/TMS1 (D2W8U) Rabbit mAb (Mouse Specific) (Alexa 488 Conjugate) (green). Blue pseudocolor = DRAQ5® #4084 (fluorescent DNA dye). Note the translocation of ASC/TMS1 to inflammasomes following stimulation with LPS and Nigericin (white arrows).
Flow Cytometry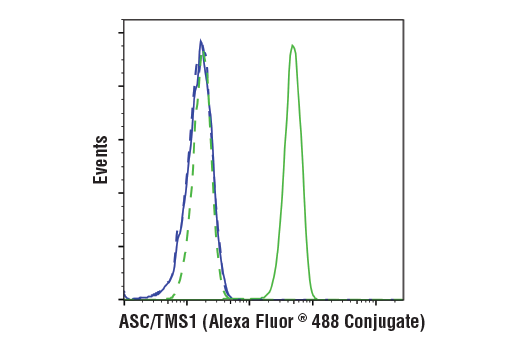 Flow cytometric analysis of Raw264.7 cells (blue) and J774A.1 cells (green) using ASC/TMS1 (D2W8U) Rabbit mAb (Mouse Specific) (Alexa Fluor® 488 Conjugate) (solid lines) or a concentration-matched Rabbit (DA1E) mAb IgG XP® Isotype Control (Alexa Fluor® 488 Conjugate) #2975 (dashed lines).
TMS1 (target of methylation-induced silencing)/ASC (apoptosis-associated speck-like protein containing a CARD), also referred to as PYCARD and CARD5, is a 22-kDa pro-apoptotic protein containing an N-terminal pyrin domain (PYD) and a C-terminal caspase recruitment domain (CARD) (1-2). The ASC/TMS1 gene was originally found to be aberrantly methylated and silenced in breast cancer cells (2), and has since been found to be silenced in a number of other cancers, including ovarian cancer (3), glioblastoma (4), melanoma (5), gastric cancer (6), lung cancer (7), and prostate cancer (8). Expression of ASC/TMS1 can be induced by pro-apoptotic/inflammatory stimuli (9). During apoptosis ASC/TMS1 is re-distributed from the cytosol to the mitochondria and associates with mitochondrial Bax to trigger cytochrome c release and subsequent apoptosis (10). ASC/TMS1 has also been found to be a critical component of inflammatory signaling where it associates with and activates caspase-1 in response to pro-inflammatory signals (11).
The Alexa Fluor dye conjugates in this product are sold under license from Life Technologies Corporation, for research use only excluding use in combination with DNA microarrays and high content screening (HCS).
DRAQ5 is a registered trademark of Biostatus Limited.
Alexa Fluor is a registered trademark of Life Technologies Corporation.
Cell Signaling Technology is a trademark of Cell Signaling Technology, Inc.