#14931 His-Tag (D3I1O) XP® Rabbit mAb (Alexa Fluor® 647 Conjugate)
| | | | | |
| --- | --- | --- | --- | --- |
| #14931S | 100 μL | 74,000 | | |
感度
抗体の由来
貯法
トランスフェクト
Rabbit IgG
4℃
免疫蛍光細胞染色 (IF-IC) (1:50)、フローサイトメトリー (1:50)
特異性・感度
トランスフェクトレベルの6xHis エピトープタグを含む組換えタンパク質を検出します。トランスフェクトした細胞の標的タンパク質のN末端あるいはC末端に融合した6xHis タグを認識します。
使用抗原
6xHis エピトープタグ (合成ペプチド)
ホモロジー (相同性) 検索をご希望の場合 >>>
ホモロジー検索をご要望の際は、ご希望のサンプル種のアミノ酸配列とともにお問合せください。
※下記の社内データは、すべて14931 の推奨プロトコールで実験した結果です。
IF-IC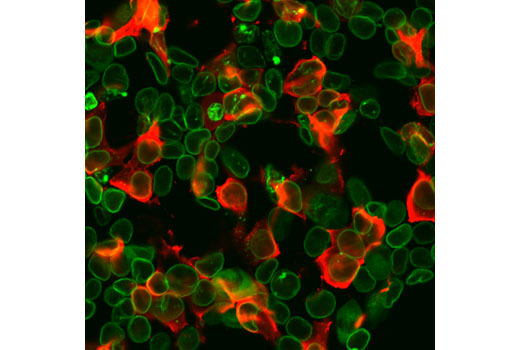 Confocal immunofluorescent analysis of 293T cells transfected with a His-Tagged protein using His-Tag (D3I1O) XP® Rabbit mAb (Alexa Fluor® 647 Conjugate) (red pseudocolor) and Lamin A/C (4C11) Mouse mAb #4777 (green).
Epitope tags are useful for the labeling and detection of proteins using immunoblotting, immunoprecipitation, and immunostaining techniques. Because of their small size, they are unlikely to affect the tagged protein's biochemical properties.
A variety of plasmids contain DNA that encodes an amino-terminal tag consisting of six histidine (6xHis) residues followed by an extended multiple cloning site. The 6xHis tag on the expressed recombinant proteins allows for efficient coupling to Ni2+ affinity resins and purification by single step chromatography (1).
As is the case with other protein tag systems (2), this polyhistidine tag can often be cleaved at sites recognized by proteases such as thrombin and enterokinases to isolate the protein of interest (1).
The Alexa Fluor dye conjugates in this product are sold under license from Life Technologies Corporation, for research use only excluding use in combination with DNA microarrays and high content screening (HCS).
XP is a registered trademark of Cell Signaling Technology, Inc.
Alexa Fluor is a registered trademark of Life Technologies Corporation.
Cell Signaling Technology is a trademark of Cell Signaling Technology, Inc.
DyLight is a trademark of Thermo Fisher Scientific, Inc. and its subsidiaries.
This product is provided under an intellectual property license from Life Technologies Corporation. The transfer of this product is conditioned on the buyer using the purchased product solely in research conducted by the buyer, excluding contract research or any fee for service research, and the buyer must not (1) use this product or its components for (a) diagnostic, therapeutic or prophylactic purposes; (b) testing, analysis or screening services, or information in return for compensation on a per-test basis; or (c) manufacturing or quality assurance or quality control, and/or (2) sell or transfer this product or its components for resale, whether or not resold for use in research. For information on purchasing a license to this product for purposes other than as described above, contact Life Technologies Corporation, 5791 Van Allen Way, Carlsbad, CA 92008 USA or outlicensing@lifetech.com.