#14820 ATRX (D1N2E) Rabbit mAb
| | | | | |
| --- | --- | --- | --- | --- |
| #14820S | 100 μL | 56,000 | | |
感度
分子量 (kDa)
抗体の由来
貯法
内在性
280
Rabbit IgG
-20℃
ウェスタンブロッティング (1:1000)、免疫沈降 (1:50)、クロマチン免疫沈降 (1:50)
特異性・感度
内在性レベルのATRX タンパク質を検出します。
使用抗原
ヒトのATRX タンパク質のLeu1189 周辺領域 (合成ペプチド)
ホモロジー (相同性) 検索をご希望の場合 >>>
ホモロジー検索をご要望の際は、ご希望のサンプル種のアミノ酸配列とともにお問合せください。
※下記の社内データは、すべて14820 の推奨プロトコールで実験した結果です。
Western Blotting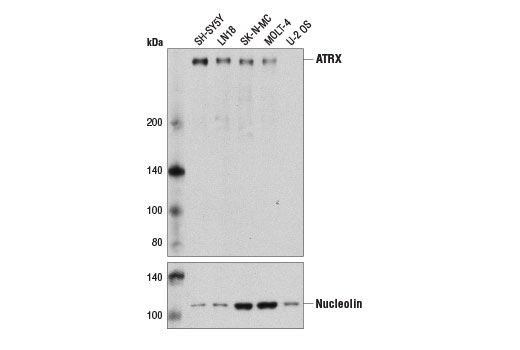 Western blot analysis of extracts from various cell lines using ATRX (D1N2E) Rabbit mAb (upper) and Nucleolin (D4C7O) Rabbit mAb #14574. As expected, the signal for ATRX is not present in the negative cell line U2OS.
IP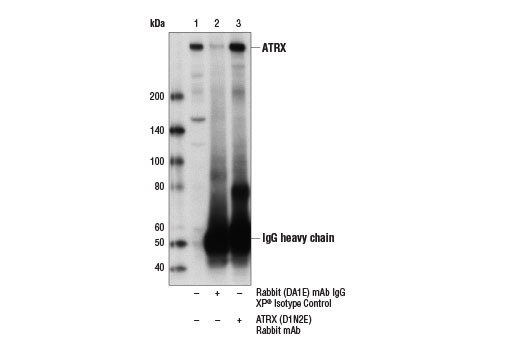 Immunoprecipitation of ATRX from 293T cell extracts using Rabbit (DA1E) mAb IgG XP® Isotype Control #3900 (lane 2) or ATRX (D1N2E) Rabbit mAb (lane 3). Lane 1 is 10% input. Western blot analysis was performed using ATRX (D1N2E) Rabbit mAb.
Chromatin IP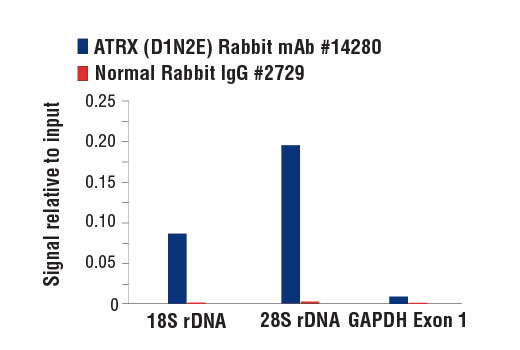 Chromatin immunoprecipitations were performed with cross-linked chromatin from HeLa cells and either ATRX (D1N2E) Rabbit mAb or Normal Rabbit IgG #2729, using SimpleChIP® Enzymatic Chromatin IP Kit (Magnetic Beads) #9003. The enriched DNA was quantified by real-time PCR using human 18s rDNA repeat primers, SimpleChIP® Human 28s rDNA Repeat Primers #14901, and SimpleChIP® Human GAPDH Exon 1 Primers #5516. The amount of immunoprecipitated DNA in each sample is represented as signal relative to the total amount of input chromatin, which is equivalent to one.
α-thalassemia/mental retardation X-linked (ATRX) is transcriptional regulator and helicase that belongs to the SNF2 family of chromatin remodeling proteins (1,2). Together with its binding partner death-associated protein 6 (DAXX), ATRX acts as histone chaperone to deposit histone variant H3.3 at repetitive DNA sequences such as telomeric, pericentric, and ribosomal gene repeats (3-6). ATRX is involved in many nuclear functions that ensure proper sister chromatid cohesion during mitosis and chromosome alignment during meiosis (7,8). The ATRX transcriptional regulator also plays a role in the maintenance of telomere integrity and the regulation of gene expression during mammalian development by influencing DNA methylation patterns at high DNA repeat sequences (9,10). Mutations in the corresponding ATRX gene results in ATR-X syndrome, an X-linked disorder characterized by intellectual disabilities, craniofacial abnormalities, and mild α-thalassemia (11,12). Research studies indicate that the loss of ATRX protein occurs in numerous cancers, including pancreatic neuroendocrine tumors (PanNETs) and pediatric glioblastoma, where telomere maintenance occurs independently of telomerase (13-16).
Tween is a registered trademark of ICI Americas, Inc.
XP is a registered trademark of Cell Signaling Technology, Inc.
SimpleChIP is a registered trademark of Cell Signaling Technology, Inc.
Cell Signaling Technology is a trademark of Cell Signaling Technology, Inc.