#14022 LEF1 (C12A5) Rabbit mAb (Alexa Fluor® 647 Conjugate)
| | | | | |
| --- | --- | --- | --- | --- |
| #14022S | 100 μL | 63,000 | | |
感度
抗体の由来
貯法
内在性
Rabbit IgG
4℃
| 種交差性 (社内試験済) | |
| --- | --- |
| ヒト、マウス、ラット | - |
特異性・感度
内在性レベルのLEF1 タンパク質を検出します。他のプロモーターで生成されたLEF1 タンパク質のドミナントネガティブ体は認識しません。
使用抗原
ヒトのLEF1 タンパク質のPro82 周辺領域 (合成ペプチド)
ホモロジー (相同性) 検索をご希望の場合 >>>
ホモロジー検索をご要望の際は、ご希望のサンプル種のアミノ酸配列とともにお問合せください。
※下記の社内データは、すべて14022 の推奨プロトコールで実験した結果です。
Flow Cytometry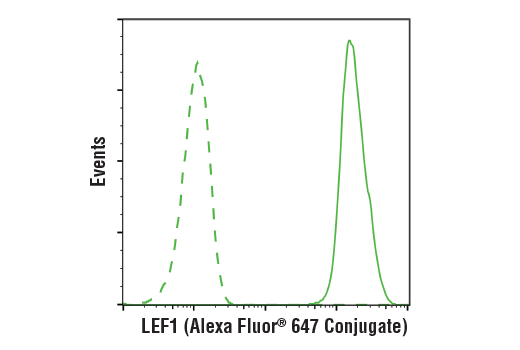 Flow cytometric analysis of Jurkat cells using LEF1 (C12A5) Rabbit mAb (Alexa Fluor® 647 Conjugate) (solid line) compared to concentration-matched Rabbit (DA1E) mAb IgG XP® Isotype Control (Alexa Fluor® 647 Conjugate) #2985 (dashed line).
LEF1 and TCF are members of the high mobility group (HMG) DNA binding protein family of transcription factors that consists of the following: Lymphoid Enhancer Factor 1 (LEF1), T Cell Factor 1 (TCF1/TCF7), TCF3/TCF7L1, and TCF4/TCF7L2 (1). LEF1 and TCF1/TCF7 were originally identified as important factors regulating early lymphoid development (2) and act downstream in Wnt signaling. LEF1 and TCF bind to Wnt response elements to provide docking sites for β-catenin, which translocates to the nucleus to promote the transcription of target genes upon activation of Wnt signaling (3). LEF1 and TCF are dynamically expressed during development and aberrant activation of the Wnt signaling pathway is involved in many types of cancers including colon cancer (4,5).
LEF1 has several isoforms due to alternative splicing. LEF1 also has an alternative promoter that is preferentially active in lymphocytes. The isoforms generated by this alternative promoter have no amino-terminal β-catenin binding domain and may function in a dominant negative manner (6-8).
The Alexa Fluor dye antibody conjugates in this product are sold under license from Life Technologies Corporation, for research use only for immunocytometry, immunohistochemistry, high content screening (HCS) analysis, or flow cytometry applications.
XP is a registered trademark of Cell Signaling Technology, Inc.
Alexa Fluor is a registered trademark of Life Technologies Corporation.
Cell Signaling Technology is a trademark of Cell Signaling Technology, Inc.
This product is provided under an intellectual property license from Life Technologies Corporation. The transfer of this product is conditioned on the buyer using the purchased product solely in research conducted by the buyer, excluding contract research or any fee for service research, and the buyer must not (1) use this product or its components for (a) diagnostic, therapeutic or prophylactic purposes; (b) testing, analysis or screening services, or information in return for compensation on a per-test basis; or (c) manufacturing or quality assurance or quality control, and/or (2) sell or transfer this product or its components for resale, whether or not resold for use in research. For information on purchasing a license to this product for purposes other than as described above, contact Life Technologies Corporation, 5791 Van Allen Way, Carlsbad, CA 92008 USA or outlicensing@lifetech.com.