#13421 SSRP1 (E1Y8D) Rabbit mAb
| | | | | |
| --- | --- | --- | --- | --- |
| #13421S | 100 μL | 56,000 | | |
感度
分子量 (kDa)
抗体の由来
貯法
内在性
81
Rabbit IgG
-20℃
| 種交差性 (社内試験済) | |
| --- | --- |
| ヒト、マウス、ラット、サル | ニワトリ |
ウェスタンブロッティング (1:1000)、クロマチン免疫沈降 (1:50)
特異性・感度
内在性レベルのSSRP1 タンパク質を検出します。いくつかの細胞株で由来不明の140 kDa のタンパク質とも交差します。
使用抗原
ヒトのSSRP1 タンパク質のVal145 周辺領域 (合成ペプチド)
ホモロジー (相同性) 検索をご希望の場合 >>>
ホモロジー検索をご要望の際は、ご希望のサンプル種のアミノ酸配列とともにお問合せください。
※下記の社内データは、すべて13421 の推奨プロトコールで実験した結果です。
Western Blotting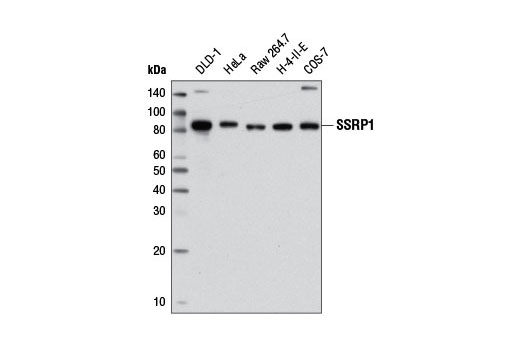 Western blot analysis of extracts from various cell lines using SSRP1 (E1Y8D) Rabbit mAb.
Chromatin IP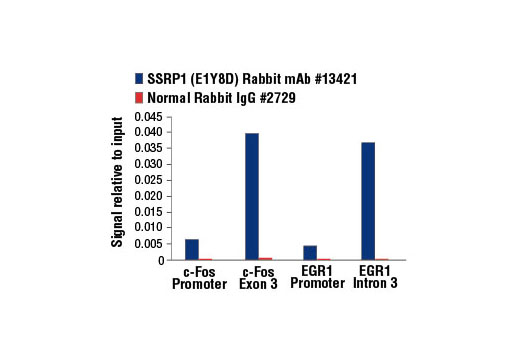 Chromatin immunoprecipitations were performed with cross-linked chromatin from HCT 116 cells starved for 48 hr then serum stimulated with 20% FBS for 15 min and either SSRP1 (E1Y8D) Rabbit mAb or Normal Rabbit IgG #2729 using SimpleChIP® Enzymatic Chromatin IP Kit (Magnetic Beads) #9003. The enriched DNA was quantified by real-time PCR using SimpleChIP® Human c-Fos Promoter Primers #4663, SimpleChIP® Human c-Fos Exon 3 Primers #12010, SimpleChIP® Human EGR1 Promoter Primers #5549, and SimpleChIP® Human EGR1 Intron 3 Primers #11953. The amount of immunoprecipitated DNA in each sample is represented as signal relative to the total amount of input chromatin, which is equivalent to one.
Suppressor of Ty-16 (SPT16) and structure-specific recognition protein-1 (SSRP1) are subunits of the facilitates chromatin transcription (FACT) complex that is essential for transcription elongation (1,2). FACT facilitates RNA polymerase-dependent transcription of chromatin templates by destabilizing the nucleosomes within the open reading frames of active genes (3-5). FACT destabilizes the nucleosomes, which would otherwise act as barriers to RNA polymerase transcription activity, by disrupting histone-histone and histone-DNA contacts that lead to the eviction of the histone H2A-H2B dimer (2,3,6). FACT may also function as a histone chaperone to reassemble nucleosomes after RNA polymerase passage (7). In addition to transcription, FACT activity has been shown to have a role in DNA replication in yeast and in DNA repair by contributing to the activation of p53 by CK2 and by facilitating histone H2AX-H2B exchange upon DNA damage (8-10).
Tween is a registered trademark of ICI Americas, Inc.
SimpleChIP is a registered trademark of Cell Signaling Technology, Inc.
Cell Signaling Technology is a trademark of Cell Signaling Technology, Inc.