#12302 Phospho-Chk1 (Ser317) (D12H3) XP® Rabbit mAb
CSTコード
包装

希望納入価格 (円)

ご登録代理店情報

カスタマー情報にご登録いただいた代理店を表示しています。

ご登録代理店の変更は

こちら

。

#12302S
100 μL
72,000
#12302T
20 μL
39,000


Custom Antibody Sampler Kitの構成品を選択できます。
5本以上を選択し、ページ右上のCartから製品確定書を発行してください。
尚、構成品の単品販売は致しておりません。
CHK1 製品一覧 | #12302 が入っているAntibody Sampler キット一覧
感度
分子量 (kDa)
抗体の由来
貯法
内在性
56
Rabbit IgG
-20℃
ウェスタンブロッティング (1:1000)、免疫沈降 (1:50)、免疫蛍光細胞染色 (IF-IC) (1:800)
特異性・感度
内在性レベルのSer317 がリン酸化されたChk1 タンパク質を検出します。いくつかの細胞株では、由来不明な80 kDa のタンパク質も検出します。
使用抗原
ヒトのChk1 タンパク質のSer317 周辺領域 (合成リン酸化ペプチド)
ホモロジー (相同性) 検索をご希望の場合 >>>
ホモロジー検索をご要望の際は、ご希望のサンプル種のアミノ酸配列とともにお問合せください。
※下記の社内データは、すべて12302 の推奨プロトコールで実験した結果です。
Western Blotting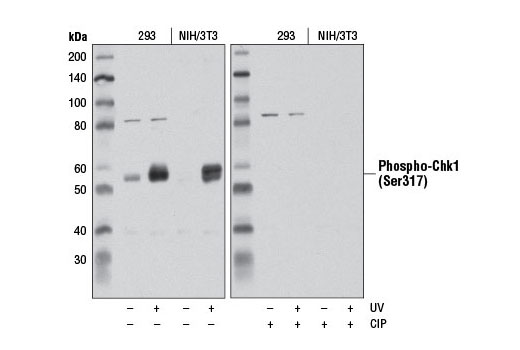 Western blot analysis of extracts from 293 and NIH/3T3 cells, untreated (-) or UV-treated (100 mJ, 1 hr recovery; +), using Phospho-Chk1 (Ser317) (D12H3) XP® Rabbit mAb. The blot on the right was treated with calf intestinal phosphatase (CIP) before western blot.
IP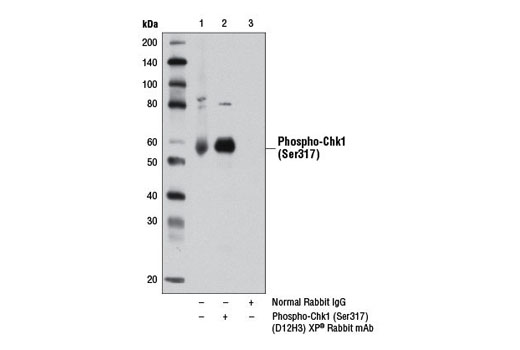 Immunoprecipitation of phospho-Chk1 (Ser317) from 293 cell extracts treated with UV (100 mJ, 1 hr recovery) using Phospho-Chk1 (Ser317) (D12H3) XP® Rabbit mAb (lane 2) or Rabbit (D1AG) mAb IgG XP® Isotype Control #3900 (lane 3). Lane 1 is 10% input.
IF-IC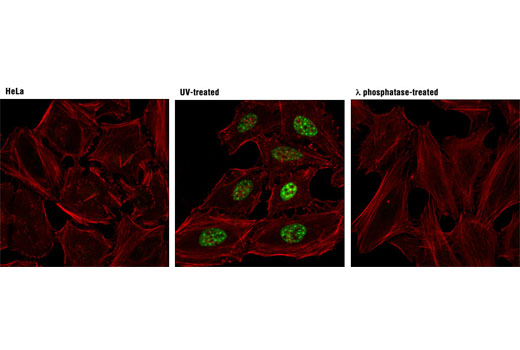 Confocal immunofluorescent analysis of HeLa cells, untreated (left), UV-treated (center), or UV and λ phosphatase-treated (right), using Phospho-Chk1 (Ser317) (D12H3) XP® Rabbit mAb (green). Actin filaments were labeled with DY-554 phalloidin (red).
Chk1 kinase acts downstream of ATM/ATR kinase and plays an important role in DNA damage checkpoint control, embryonic development, and tumor suppression (1). Activation of Chk1 involves phosphorylation at Ser317 and Ser345 by ATM/ATR, followed by autophosphorylation of Ser296. Activation occurs in response to blocked DNA replication and certain forms of genotoxic stress (2). While phosphorylation at Ser345 serves to localize Chk1 to the nucleus following checkpoint activation (3), phosphorylation at Ser317 along with site-specific phosphorylation of PTEN allows for re-entry into the cell cycle following stalled DNA replication (4). Chk1 exerts its checkpoint mechanism on the cell cycle, in part, by regulating the cdc25 family of phosphatases. Chk1 phosphorylation of cdc25A targets it for proteolysis and inhibits its activity through 14-3-3 binding (5). Activated Chk1 can inactivate cdc25C via phosphorylation at Ser216, blocking the activation of cdc2 and transition into mitosis (6). Centrosomal Chk1 has been shown to phosphorylate cdc25B and inhibit its activation of CDK1-cyclin B1, thereby abrogating mitotic spindle formation and chromatin condensation (7). Furthermore, Chk1 plays a role in spindle checkpoint function through regulation of aurora B and BubR1 (8). Research studies have implicated Chk1 as a drug target for cancer therapy as its inhibition leads to cell death in many cancer cell lines (9).
XP is a registered trademark of Cell Signaling Technology, Inc.
Cell Signaling Technology is a trademark of Cell Signaling Technology, Inc.