#12028 Phospho-cdc25C (Thr48) (D2H3) Rabbit mAb
| | | | | |
| --- | --- | --- | --- | --- |
| #12028S | 100 μL | 66,000 | | |
感度
分子量 (kDa)
抗体の由来
貯法
内在性
75
Rabbit IgG
-20℃
ウェスタンブロッティング (1:1000)、免疫沈降 (1:100)、免疫蛍光細胞染色 (IF-IC) (1:300)
特異性・感度
内在性レベルのThr48 がリン酸化されたCdc25C タンパク質を検出します。
使用抗原
ヒトのCdc25C タンパク質のThr48 周辺領域 (合成リン酸化ペプチド)
ホモロジー (相同性) 検索をご希望の場合 >>>
ホモロジー検索をご要望の際は、ご希望のサンプル種のアミノ酸配列とともにお問合せください。
※下記の社内データは、すべて12028 の推奨プロトコールで実験した結果です。
Western Blotting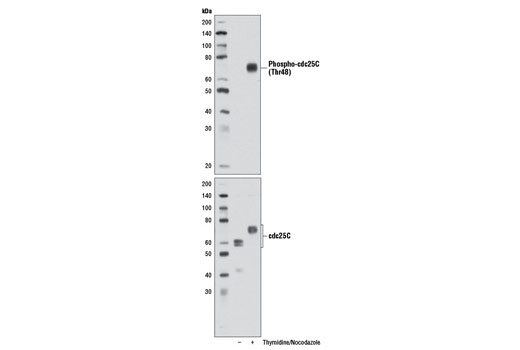 Western blot analysis of extracts from HT-29 cells, asynchronous (-) or synchronized in mitosis (thymidine block, nocodazole release, mitotic shake-off; +), using Phospho-cdc25C (Thr48) (D2H3) Rabbit mAb (upper) or cdc25C (5H9) Rabbit mAb #4688 (lower).
IF-IC
Confocal immunofluorescent analysis of HT-29 cells, untreated (left) or λ phosphatase-treated (right), using Phospho-cdc25C (Thr48) (D2H3) Rabbit mAb (green). Actin filaments were labeled with DY-554 phalloidin (red). Blue pseudocolor = DRAQ5® #4084 (fluorescent DNA dye).
Cdc25 is a protein phosphatase responsible for dephosphorylating and activating cdc2, a crucial step in regulating the entry of all eukaryotic cells into mitosis (1). cdc25C is constitutively phosphorylated at Ser216 throughout interphase by c-TAK1, while phosphorylation at this site is DNA damage-dependent at the G2/M checkpoint (2). When phosphorylated at Ser216, cdc25C binds to members of the 14-3-3 family of proteins, sequestering cdc25C in the cytoplasm and thereby preventing premature mitosis (3). The checkpoint kinases Chk1 and Chk2 phosphorylate cdc25C at Ser216 in response to DNA damage (4,5).
Full activation of cdc25C involves phosphorylation at more than 12 different sites by cdc2/cyclin B and Polo-like kinase, and the activity of Pin1, a peptidyl-prolyl isomerase (PPI) (6,7). Pin1 contains a WW domain that binds phospho-Ser/Thr-Pro sites and a catalytic PPI region that induces a cis/trans isomerization at phospho-Ser/Thr-Pro bonds (8). Thr48 and Thr67 of cdc25C interact directly with the WW domain of Pin1 when these sites are phosphorylated (9). Thr48 phosphorylation also mediates binding to CKS/p13SUC1 (10).
DRAQ5 is a registered trademark of Biostatus Limited.
Cell Signaling Technology is a trademark of Cell Signaling Technology, Inc.